Hi Ya's! Hope you all had a beautiful weekend!
We've been having some really wonderful weather here .. totally loving it! The skies are the bluest of blues, and the temps are mid 80's .. PERFECT! So we've been playing outside a lot more, and our dog Max impressed us the other day! ... Bodhi was riding his bike in our culdesac and Max stood in our driveway with his leash .. just watching and yearning to run.
We let Max off the leash, and he did exactly what we were hoping he would do .. he ran alongside Bodhi's bike like a natural! :) When Bodhi turned his bike, Max turned .. he stayed right alongside Bodhi .. never straying .. just faithful by his side. :) Ears flapping and flying in the wind ... and both Bodhi and Max with huge smiles on their faces (well, I THINK Max was smiling!) LOL! Loved it .. totally loved it!
Then a new neighbor came out to meet us with her Lab that was unleashed also .. and my heart started racing .. as we've never met this dog before. Buuuuut .. everything was good! Absolutely great energy .. and both our dogs just hung out together! Nice!!! :)
Okay .. so now that I've talked your eardrums off .. lol .. here's my card that I've made with this DARLING
LOTV
"
Squirrel Snack
" along with a sentiment from "
Set 35 - Christmas Handwritten Phrases
".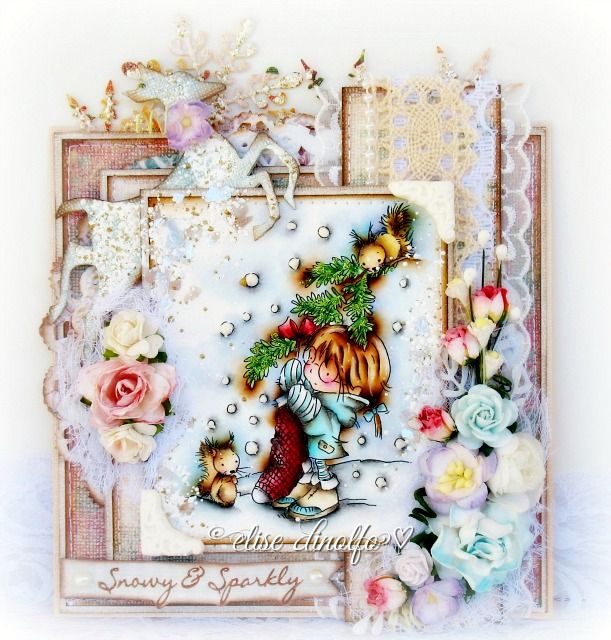 Medium: Distress Inks
Papers: The Paper Studio
Oh and also! LOTV will be having these new
GORGEOUS Paper Pads
available for you! Beauuuutiful right? ;)
Okay, don't forget to check out my LOVELY DT sisters on their personal blogs as well as on the
LOTV's Inpirational Blog
for their GORGEOUS creations! :)
Thank you so much for visiting me .. I truly love it when you do! I'll see you again soon!
Hugs,
Elise